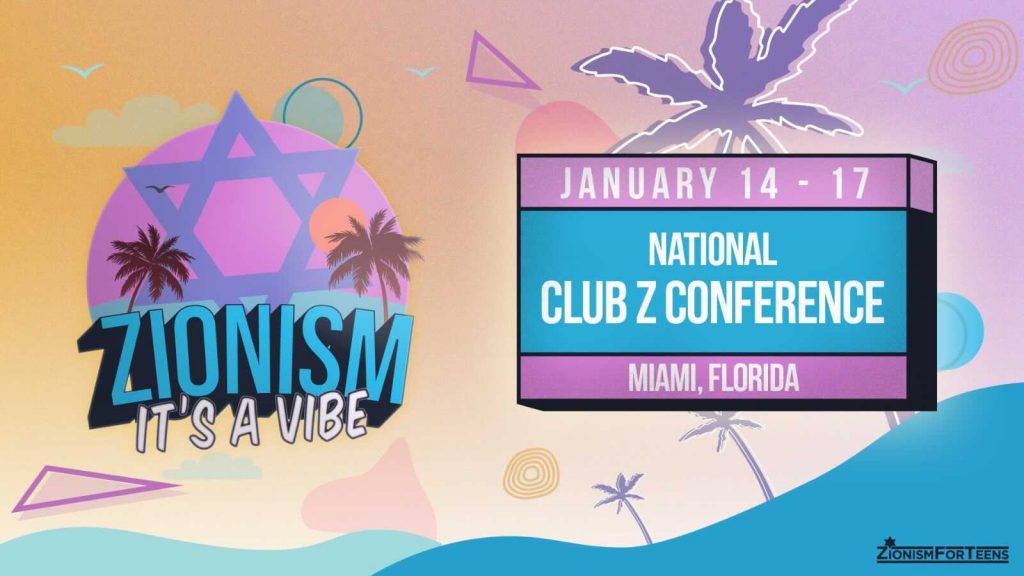 The Club Z national conference is just over 3 months away! To be held in Florida over Martin Luther King Jnr. weekend (January 14-17, 2022), the conference is an annual gathering that brings together teens from across the country for a weekend of learning, inspiration, and skill-building.
This immersive experience is open to non-Club Z teens and so provides family and friends with not only the opportunity to get a "taste of Club Z," but to also participate in unique opportunities to network with like-minded peers, learn about university life from current college students, and form relationships with pro-Israel leaders on campus and beyond. Club Z has consistently hosted notable speakers and leading university student organizations from the pro-Israel world to talk to and engage with the teens; this conference will be no different.
Details for the conference are as follows:
The conference is open to all 9th, 10th, 11th and 12th graders as well as freshmen and sophmore college stsudents;
The conference will be held at the Hilton Miami Airport Blue Lagoon;
Registration for the conference can be made here. This registration fee includes accommodation and meals, but excludes travel.
Teens who travel by air will be met at Miami International airport (MIA) by Club Z staff during the hours of 11am and 1:30pm on Friday, January 14. Club Z staff will meet and accompany teens on the airport shuttle to Blue Lagoon. Teens are welcome to arrive outside of this window (or arrive at another airport) but will not be welcomed by Club Z staff.
Teen should plan to miss school on Friday the 14th. The conference will start at 4pm and will end late on Sunday evening. Teens are welcome to leave at any time on Monday morning.
This highlight video from the 2020 conference provides insight into what teens can expect 😎